Be a pro, Antonio: Time for Oakland's Brown to end 'nuclear' disruptions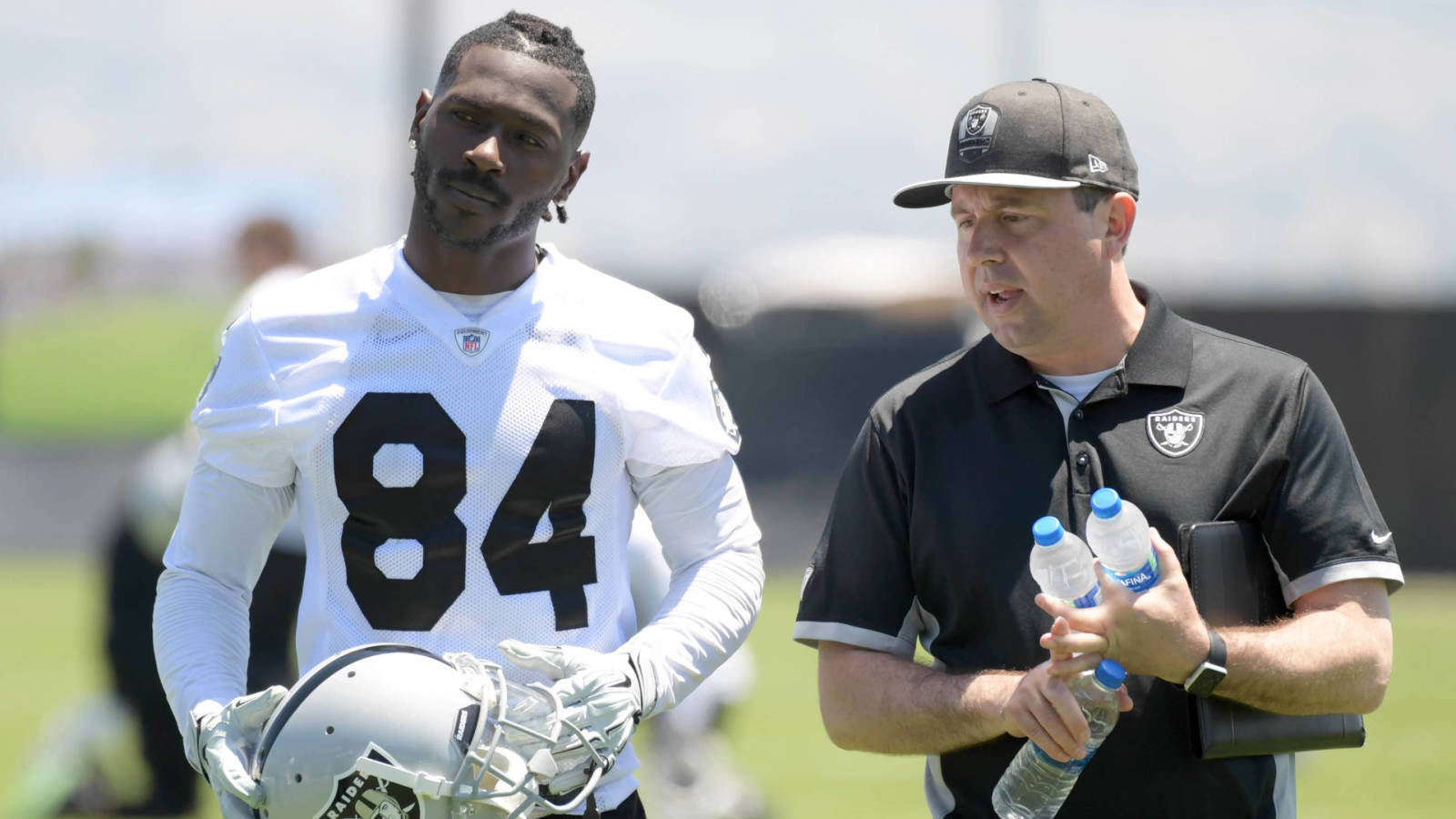 In a four-month span, Antonio Brown was able to extricate himself from a situation that was becoming increasingly toxic in Pittsburgh and land a new $50 million contract in Oakland. Some of his tactics could be described as purposeful provocation. At times, just when it seemed like things could be smoothed over, he did something to stir them back up again.
That proved canny as far as goading the Steelers into dealing one of their best players for the low, low price of a third- and fifth-round picks.
Now that he's in Oakland, the parade of frustrating headlines just won't quit. There was off-season squabbling with old teammates over social media, a headache but ultimately irrelevant — it only resonates in the deepest pits of the starved news hole. Nevertheless, that chaotic energy has carried over into training camp. Within a couple of days last week, just as the focus fell on the franchise with "Hard Knocks," Brown was reportedly sidelined with frostbite on his feet resulting from a cryotherapy mishap. And that was just the beginning.
The public and media guffaws that greeted that oddity barely had a chance to dissipate before another AB scandal emerged that not only threatened to limit his preparedness for the regular season, but curtail his playing career entirely. Indeed, Brown had filed a grievance against the NFL for a rule preventing him from continuing to wear his preferred helmet.
Brown favors the Schutt Air Advantage, which was discontinued by the company in 2011. The National Operating Committee for Standards and Athletic Equipment won't certify it for use this year because it's more than 10 years old.
AB has gone as far as telling the Raiders he would cease to play football if he can't wear his helmet. In what seems like a slight walkback or a tactical ploy suggesting retirement is a long shot, during last Friday's conference call with an independent arbitrator, Brown's camp warned that the receiver would hold the NFL liable if he suffered a head injury while wearing the new helmet. How AB would prove that a particular hit would result in an injury in a currently approved helmet style but not the older one he prefers remains unclear and seems highly unlikely.
What this process shows is that Brown views the nuclear option as the first tack to take when facing conflict with an employer or the league at large. That might have been effective when he was in Pittsburgh, two years into a contract extension, and looking for a new deal as he was about to turn 31. Now, it's great for making noise, but the level of sympathy is not the same when Brown has already gotten everything he wants within the last year.
The problem with such an approach now is that AB is talking about walking away from $30 million guaranteed over the next two seasons. The Raiders would surely like to have Brown in the lineup, feet intact, sans drama. But if they had to face the reality that their new superstar receiver is abruptly calling it quits before ever stepping on the field, they could cope knowing the price they paid in draft picks was relatively low compared to what it could or even should have been.
The Raiders aren't falling for the bait the way the Steelers did, suggesting at least one might have learned something by watching that standoff play out.
"There's been a lot of reports out there. I can't say I agree with all of them, certainly, but I support this guy. I think that's what needs to be said," head coach Jon Gruden told reporters after the Raiders' first preseason game. "He has a strong feeling about what he's worn on his head, and we're supporting him. We understand the league's position as well, so we're in a tough spot. We hope Antonio is back here soon because he's exciting to be around. I'm excited. I've got some plays for him, I hope we can start calling them."
Brown's grievance is against the league, not the team, but that wouldn't stop a number of more irascible coaches from flying off the handle. Perhaps it helps that Gruden has more job and financial security than most, though it also speaks to teams having a better understanding of which star players have power, and how to maneuver when they're testing it.
AB is right to stand his ground on issues important to him, and continuing his career is always his choice. Still, it speaks to a lack of professionalism to constantly raise the prospect of refusing to play, especially at the last minute when he's had an entire offseason to learn how the rules affect his helmet. Brown has gotten what he wanted a lot since December, but at some point he has to accept his good fortune and quit the disruptions.

Published at Mon, 12 Aug 2019 16:39:00 +0000